so I will answer the question from
Castor Pollux
: "will you make a post about the concert ??" and the answer is "ABSOLUTELY YES !"
yesterday I went to Tennis Indoor Senayan to attend
Boys Like Girls Live in Concert
! it was an unforgettable night ! we loooove you BLG !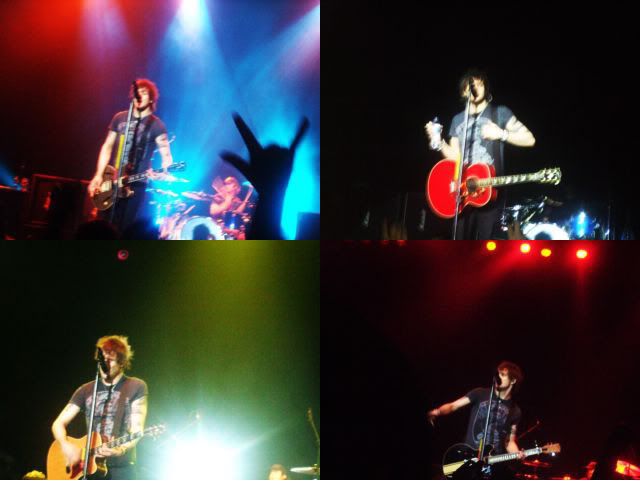 Martin split his mineral water so many times! and I got lots of I even think twice to take a bath after the concert. heheh :p
(this is like the best picture that I can get, it was so crowded !)

The birthday boy !
Paul Digiovanni
! we sang Happy Birthday to him that night ! And Martin put a Senior High School hat on Paul's head ! that was so cute ! they are super cute baddass 'brothers'
<3
my sister met her idol, do you recognize him ? he's Raka Cyril the guitarist of the band named Vierra. yes my sister is a HUGE fan of him. she was like screaminga nd jumping when she knew that Raka is coming to the concert. I'm very happy for you sis :)
guess what !
Martin Johnson
(the vocalist) throw his guitar pick and it's right in front of me! His pick hit my forehead ! OMG ! And I was so stupid that I'm not be able to grab it ! The pick was lost, and I don't know where it is ! aarrrrghhh ! I wish there was some glues on my forehead so the pick will stick.
It was a wonderful night! really really a blast ! super fun and the surprise from Martin Johnson ;
he jumps off from the stage and he dive in the middle of the audience
! Gosh ! He is just freakin' awesome !! I will never forget it !
We all love you Boys Like Girls !! can't wait for the next gig !
"for the first time my forehead got hit by a guitar pick and it feels so good. thanks @martinsays for the pick :D"

#boyslikegirls
talita
P
S : if you're on twitter, have you realize that "I love Indonesia" and "Jakarta" are on the Trending T
opics lately ? yes it's all thanks to Boys Like Girls ! :)